First to bring Emsculpt Neo to RI
EmSculpt & EmSculpt NEO
Need to strengthen your core?
We can fix that by using EmSculpt at Oceanside Medical under the supervision of Dr. Kristina McAteer in just 1 hour. It's the equivalent of doing 20,000 crunches.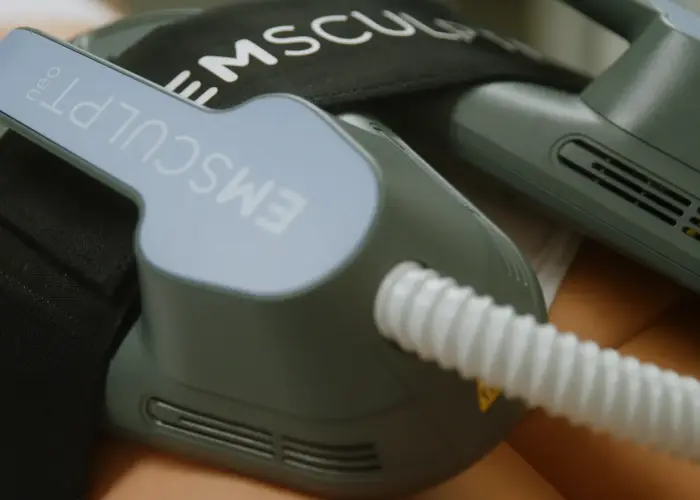 Your best body ever is within reach — and it's closer than you think. We want to help you get there and be the best version of yourself. This isn't about luck or "good genes" – it's science!
Your head-turning results will reveal themselves… and you'll want to reveal your improved physique and strength.

WHAT YOU CAN EXPECT
Treatment Length: 30 minutes
Downtime: None!
Sessions required: 4+
Discomfort Level: Very minimal (0-2 of 10)
Results last: Permanent, with a healthy lifestyle!
WHY CHOOSE OCEANSIDE MEDICAL?
Not only are we Rhode Island's exclusive Emsculpt provider, we're among the leading Emsculpt procedure innovators in the country — even featured in Forbes! Our boutique atmosphere and refreshingly personal patient attention may be the first things you love about Oceanside, but they certainly won't be the last. With all treatments overseen by an MD and a full suite of services to enhance your wellness-focused lifestyle, there's simply nothing else quite like Oceanside for non-surgical body contouring.
For more information, please complete the form below to book your free consultation and a member of our team will reach out!
How long until I see results after Emsculpt?
Emsculpt is a revolutionary treatment, a first in class, that can treat muscle along with fat. More recently with the advent of Emsculpt NEO, this technology can now treat muscle, fat, and skin in a single thirty-minute session. Beyond treating the tissues, patients will also report better posture, less lower back pain, and a trimmer waistline. You'll see ultimate results about 10 to 12 weeks after the treatment. It is essential to maintain good diet and exercise choices throughout the journey.