Look and feel your best with Oceanside's medically supervised weight loss program featuring GLP-1 medication. Our team of medical professionals will be with you on every step of your medical weight loss journey.
Clinician supervised combination of dietary modifications, nutritional supplements, and prescription medications.
3D Styku body scan analysis
Access to IV/IM vitamin supplements to accelerate results
Why Use GLP-1 Medications for Weight Loss?
Gastrointestinal peptides that stimulate glucose dependent insulin secretion, medications that you likely know, have been revolutionary in accomplishing weight loss. All medications are administered via injection and have been approved for treatment of obesity in the US. Other similar medications are currently in the process of receiving their FDA approval.
This class of medications is the preferred first line pharmacotherapy for patients with or without diabetes mellitus. Medications do have demonstrated efficacy in weight loss in trials involving patients with and without diabetes mellitus, type 2.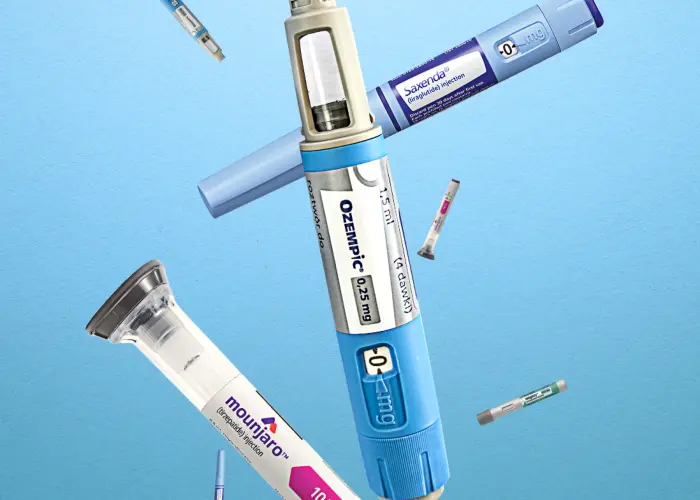 What Does the Medical Weight Loss Program Include?
During your first consultation, we'll determine your insurance eligibility (if any), discuss your weight loss goals, and perform a Styku 3D body scan, which will measure your body composition and help us track your progress.
You will be invited into the office for instruction on in-home administration of the medication. We will provide you with all supplies needed.
We'll see you once a month in the office to track your progress and offer any additional support needed.
We offer access to additional supplements or IM injections as needed on the recommendation of our providers.
What You Can Expect
Treatment length: Initial 45-minute in-office consultation, followed by monthly in-office weigh-in
Downtime: None
Sessions required: Varies according to your weight loss goals
Discomfort: None
Results last: Varies depending on healthy diet and exercise habits
Frequently Asked Questions (FAQ)
How much does this treatment cost?
Options both with and without insurance coverage are available, depending on your initial health assessment.
What are the side effects?
Gastrointestinal side effects such as nausea, stomach cramping, bloating, and diarrhea are most common. You may experience more severe abdominal pain caused by pancreatitis, cholestasis, or also experience rapid heart rates.
Are these medications safe?
Overall as a class of medication, they are generally well tolerated with few side effects. Be sure to raise any questions or concerns with your provider.
How long do I have to be on the treatment?
Duration of treatment will vary based on your goals and progress. Study groups were followed for many years. Rebound weight loss was common with shorter duration of treatment.