Laser Intense Pulsed Light

Why Choose Intense Pulsed Light Therapy?
Intense pulsed light (IPL) utilizes optical filters to generate certain wavelengths of light for treatments of specific targets such as hair, veins, pigmented lesions, and collagen. The main difference between a laser and an IPL is that the laser uses one wavelength of light only, whereas IPL uses a broad spectrum range. This means that IPL can treat a larger area of skin in a shorter time than laser therapy.
Hair Removal
IPL for hair removal uses multiple wavelengths to target hair follicles, minimizing and reducing growth, and, in most cases, preventing regrowth. Treatment causes minimal to no discomfort, with little to no preparation or downtime. Treatments are typically scheduled once monthly to target follicles while in the growth phase, maximizing outcome. Typically, a series of 6 to 8 treatments is recommended depending on area and hair texture.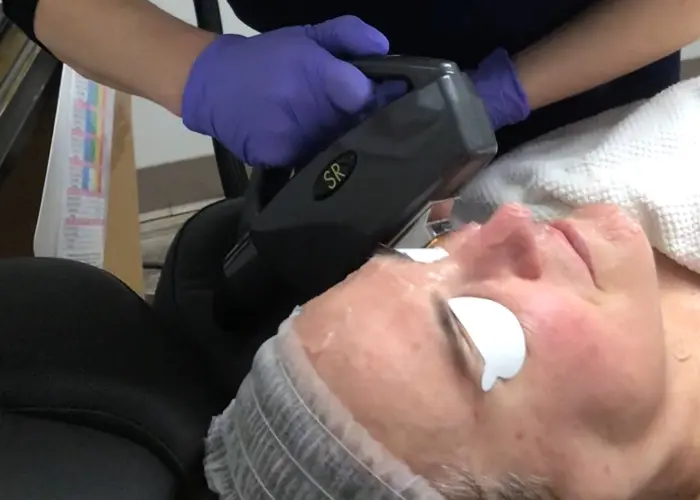 Skin Rejuvenation
Photofacial for hyperpigmentation and sun spots
Skin tightening to reduce pore size and reduce wrinkles
Vascular therapy to remove spider veins, angiomas, and rosacea
Before – After Intense Pulsed Light Therapy
WHAT YOU CAN EXPECT
Treatment Length: 15 to 45 minutes
Downtime: None
Sessions Required: 3 to 8 depending on type and area
Discomfort Level: Low (1-4 out of 10)
Results Last: Variable to indefinitely
How should I prepare for my treatment?
We will provide you with a skin type worksheet to assist with determining your skin type. We will also remove any makeup before treatment.
What should I expect after my treatment?
This will vary based on the treatment and the settings used, however, most patients report a slight stinging,much like a mild sunburn, for several hours following the treatment.
How much discomfort should I feel?
Most patients report a slight discomfort much like the sting from a rubber band snap. On a discomfort scale of 1-10 (with 1 being no discomfort and 10 being intolerable), patients should verbalize a 4-6. Topical numbing agents and ice may be used to increase comfort level.
Should I tan before treatment?
Sunless tanners, as well as tanning beds and natural tanning, all darken the skin's pigment. Treatment should be postponed until the tan has faded.
Can I use retinols before treatment?
Retin-A can cause photosensitivity, and use should be discontinued for two weeks prior to treatment. Accutane must be discontinued 6 months prior to treatment. Other medications, such as birth control pills and some antibiotics, also cause photosensitivity.
Can IPL be performed during pregnancy?
Although IPL is a safe treatment, it is advised to discontinue treatment during pregnancy.
If you need more information, have questions, or need an appointment outside of what's available, please reach out!  You can contact us by filling out the
contact form
.
We will get back to you as soon as possible!