EMSCULPT NEO® TREATMENT AT A GLANCE
Looking to achieve a 30% reduction in fat and 25% increase in muscle, with zero effort and in less time than your lunch break? EMSCULPT NEO is your non-surgical body-contouring solution! This game-changing treatment combines radiofrequency heating and high intensity focused electromagnetic energy (HIFEM®) to give you noticeable results for tighter abs, firmer buttocks, and stronger biceps, triceps, and calves. Oceanside is Rhode Island's first EMSCULPT NEO provider, so we offer you the most effective fat reduction and muscle growth treatment.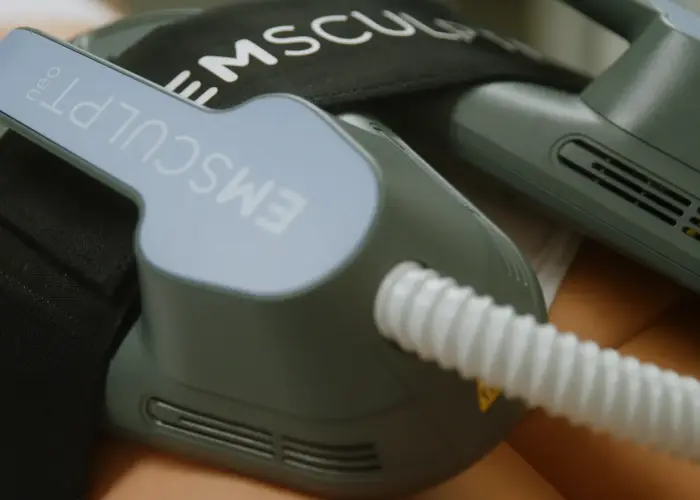 Oceanside Medical is Rhode Island's first Emsculpt NEO provider! Book your consultation today and unlock your fitness potential.
Used for the abdomen, buttocks, arms, or legs, this innovative solution is the first of its kind to simultaneously treat both muscle and fat to dramatically change the tone and appearance of the treated area. Your 30-minute treatment delivers radio frequency to destroy fat and a HIFEM® procedure to stimulate muscle in the treatment area. By delivering optimal energy in a short period of time, you can achieve more results and confidence in less time and for less overall cost.
WHAT YOU CAN EXPECT
Treatment length: 30 minutes
Downtime: None!
Sessions required: 4+
Discomfort level: Very minimal (0-2 of 10)
Results last: Long-term, with a healthy lifestyle!
WHY CHOOSE OCEANSIDE FOR EMSCULPT NEO?
Not only are we Rhode Island's first EMSCULPT NEO provider, we're among the leading EMSCULPT innovators in the country. Our boutique atmosphere and refreshingly personal patient attention may be the first things you love about Oceanside, but they certainly won't be the last. With all treatments overseen by an MD and a full suite of services to enhance your wellness-focused lifestyle, there's simply nothing else quite like Oceanside.